Days of premenstrual depression and menstrual cramps
Ayako used to suffer from severe premenstrual symptoms. She felt distressed from the mood irritation and the unbearable cramps with every menstrual cycle. The menstrual discomfort made her feel powerless and mentally and physically devastated. Ayako's symptoms were so severe that at times she could not even go to work and had to take days off without getting paid.
Ayako sought medical treatment for her condition with a gynecologist but she was only prescribed pain medication. The medication did nothing to alleviate the distress and the physical discomfort she was suffering from her PMS.
While she was trying to find a way to improve her condition, a nurse recommended her Placenta products.
A spark of hope with Placenta injections
Acting on the nurse's advice, Ayako decided to try Placenta injections for her PMS symptoms. The initial Placenta injections brought no immediate relief, but she noticed her skin had become more clear on the following morning after the first initial injections. Ayako began to feel less fatigued after the third and fourth injections and she grew excited about the effectiveness of the Placenta supplement.
Ayako expected changes in her first menstruation cycle after the Placenta injections, but she still suffered from menstrual cramps. She was, however, surprised and delighted to find that she had not suffered from any other premenstrual symptoms. The pain relief from menstrual cramping followed as she continued the Placenta injections, adjusting the dosage from three days to two days and finally reducing it to one day.
Ayako was delighted with the Placenta injections, but like most women, she was a busy woman. After a while, it became harder to find the time to go to the hospital two to three times a week for the injections. It wasn't long before her busy schedule did not allow her the time to get the injections and the uncomfortable, stressful, premenstrual symptoms returned.
Discovering Horse Placenta products
In the spring of 2006, Ayako discovered Horse Placenta supplement at a beauty and health event. Excited by the prospect of finding an alternative means to the Placenta injections, she immediately began taking the Placenta extract supplements. Soon, Ayako realized that despite the setback, her PMS had gone into remission. Moreover, she now felt much healthier and her skin was simply glowing!
As the symptoms diminished and her days became brighter, she noticed waves of smiles all around her and that made her feel particularly warm inside. As time went by, Ayako became convinced that she must share the miraculous benefits of the Horse Placenta products with all women who were suffering from the same severe menstrual symptoms.
Our hope is to share the beneficial effects of the Horse Placenta products with all the women of the world
Ayako was 30 years-old when she left her last position, after 8 years of employment at a food manufacture company. In February 2007, she founded Placenta-Ya, an e-commerce company with unique distribution in Japan.
Ayako was very anxious in the beginning, monitoring the number of visits to her website and checking her e-mail for orders. But, it took only two weeks from the initial launch of the company before she received her first order for the Horse Placenta supplement. She was overcome with joy, regarding her customer as friends with whom she could share the same thoughts and feelings.
Ayako began attracting more customers as the name of CoCoRo began to spread through word of the mouth by satisfied customers who voiced their feelings and concerns: "I want to be more beautiful.", "I am suffering from menopause.", "I want to be relieved from the terrible menstrual cramps.", "I'm extremely exhausted."
Ayako understood women's anxiety and despair about their physical and mental discomfort because she had suffered from the same symptoms for so long.
When she realized how much her customers believed in her and her products, she immediately decided to create better products to provide more comfort and joy in the lives of her customers. Ayako wanted to diminish her customers' distress and make them smile.
She made an unwavering commitment to create a supplement that would not only fight PMS symptoms but also provide healthy, beauty solutions. She envisioned a special product that she could recommend to her precious family, her friends, and to all the women of the world.
The development of the original CoCoRo products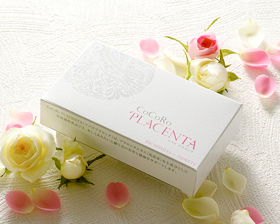 We are committed to the quality of our products. We seek heartwarming solutions for female-specific health issues. Our Horse Placenta supplement is specifically for women, that's why we insist on quality that is purely for women. Our aim is to bring out bright smiles!
Quality Commitment
High quality horse placenta
High quality antioxidant component
Safe and harmless ingredients
It took us over a year of experimenting products to finally develop the comprehensive CoCoRo Placenta.
An enjoyable life full of smiles
Women who experience less menstrual and menopausal symptoms have clearer skins and healthier minds. We believe that a woman's beauty is not only in her appearance but also the inner beauty of her heart, her
Cororo
, which means heart or compassion in Japanese. We hope that women will broaden their horizons and live a beautiful life. CoCoRo supports your desire for a happy and enjoyable life.
We are always attentive to our customers' voices. We will continue developing the best solutions to bring out the smiles of women all around the world.
Thank you for reading our story to the end! We look forward to providing you with our excellent products.
CoCoRo Co., Ltd.
CEO Ayako Ishii