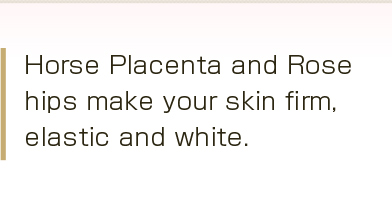 Rich amino acids from Horse Placenta and Rosehips along with vitamin C are the best collagen producing ingredients.
Dermal Collagen supplemented by vitamin C combined with amino acids contributes to a firm and elastic skin. Collagen deficiency due to the depletion of vitamin C causes the process of aging. Vitamin C is effective in reducing the effects of aging, producing melanin pigment, and keeping the body from oxidizing. Vitamin C also plays a role in retaining skin moisture and maintaining a clear, white, skin.
Rosehips are rich in calcium and ideal for women with iron deficiency.
While Vitamin C is heat-sensitive, the vitamin C in Rosehips is protected by Vitamin P which makes it heat resistant.
※ Since the molar weight in collagen is high, collagen is not absorbed by applying it directly to your skin. Ingested with food, collagen is broken down in the digestive system without turning into dermal collagen.